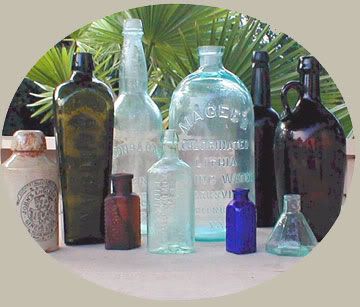 Old Cabin bitters bottle may shatter $75000 bid in antique bottle auction
Antique Trader reported
A Kelly's Old Cabin bitters bottle, patented in 1863 and one of only a handful of light green examples known, is expected to sell for $35,000-$75,000 in an Internet and catalog auction that ends Aug. 19, 2012 by American Bottle Auctions.
The Kelly's Old Cabin bitters is the expected top lot in a sale that will feature 185 examples in a variety of categories: whiskeys (including some great Western whiskey fifths and a great collection of back bar whiskey bottles), sodas, mineral waters, Eastern and Western bitters (including the Kelly's bottle), historical flasks, a nice group of five target balls and more.
The best of the best – around 100 bottles – will be displayed at the Reno Exposition of the Federation of Historic Bottle Collectors, slated for July 26-29, 2012 at the Sierra Resort & Casino in Reno, Nev. Every four years the FHBC trade organization convenes to stage a bottle show and expo. American Bottle Auctions will have a presence this year with a booth and display cabinets.
The Kelly's Old Cabin bitters was discovered by a gentleman named Pete over 40 years ago, while digging a well in Ogallala, Neb. Found were a number of Kelly bitters, but most were amber or olive green in color. Only two were greenish-blue, so rare that when Pete first brought them to a bottle show for appraisal he was told they were fakes. Turns out they're anything but.
The other example has been sold twice – in 1997 and 2007, both times for sums that far exceeded expectations. The bottle in this sale is regarded to be in better condition (it is rated 9 out of a possible 10), so it's anyone's guess what the final hammer price will be. It is essentially in mint shape, with just some normal signs of wear for a bottle that had been 30 feet down a well.
"The Kelly's Old Cabin bitters is the undisputed heavyweight champ in this auction, but there are many other rare and exciting bottles that collectors will get excited over," said Jeff Wichmann, owner of American Bottle Auctions. "We've got lots of nice pieces, something for just about everybody, from high to low price points." It will be the 56th auction for the company.
A beautiful aqua blue Chalmer's Catawba wine bitters bottle (Sutter's Old Mill, Spruance Stanley & Co., Proprietors), made in 1872 or 1873, with strong strike, condition and color and boasting an embossed picture of Sutter's Old Mill, has a pre-sale estimate of $7,000-$15,000. The bottle is rated a near-perfect 9.5, and is exactly as it came out of the ground after being rinsed out.